5 things you don't know about pharmacists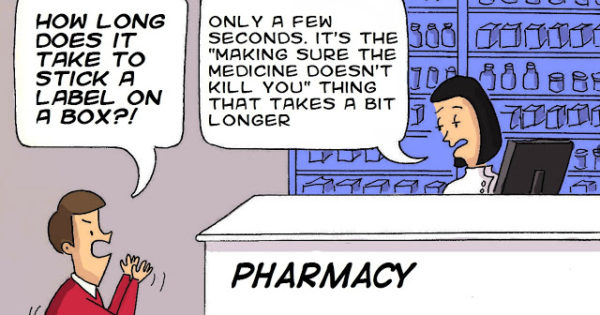 Being a pharmacist over this past year has been one of the most challenging times of my career. Practising during a pandemic is something that they don't include in your pharmacist training. I've seen the good, bad and ugly. It's been difficult for all of us, yet, I think that during this past year I have grown the most – personally with the birth of my son and in my career.
Our priority at eastMED Pharmacy during the COVID-19 pandemic response is to ensure all members of our community in St Heliers, Glendowie, Kohimarama and Mission Bay continue to have access to medicines, health information and advice. A big thank you and appreciation to my colleagues (Amy, Annie, Hana, Jan, Jess, Jo, Karen, Moree, Radha, Tracy) who have put in the tremendous time, effort, and worked long hours into making this priority theirs. I am extremely grateful and proud of what they have accomplished and I'm honoured to be part of this incredible team and work alongside these amazing people.
World Pharmacist Day is today, each year it gives me a time to reflect on the changes that have occurred during the last year. This year the list is endless! From building a perspex glass barrier in the pharmacy, wearing masks every day to restricting the customers in the pharmacy in level 3 and 4. I would have never imagined that we would be doing these things. The future of pharmacy has changed forever, the way we operate as a country – even the world has changed forever.
In New Zealand, there are 4000 pharmacists who work in a variety of areas – in your local community pharmacy, in hospitals, at drug companies, medical publishers, clinical trials and more!
As a pharmacist, I think that what we can offer the community is poorly understood by the public and our knowledge and expertise are grossly undervalued. This makes me really sad. Pharmacists need to go through four years of University study, a one-year internship and some even go beyond and further their study to obtain a masters degree like myself. Not to mention many pharmacists deployed in the community have years of clinical experience up their sleeves.  I left pharmacy school with enthusiasm and immense knowledge, however, most people think of pharmacists as merely pill counters or a shop keeper and we are extremely underutilised. Don't get me wrong – I love my job and make it my goal to help others and educate them about what pharmacists can offer. That's why I want to cover 5 things that you may not know about how your local pharmacist can help you:
We make sure that what you're prescribed is safe – if it's not we talk to your doctor. You may wonder why it's taking so long to get your medicine but behind the scenes were calling the doctor, getting them to resend the prescription, checking it again – your safety is paramount.
We can let you know if you need to see the doctor. Ever wonder if there is something you can do for a minor ailment without seeing the doctor – we can help with that, saving you time and money.
We provide medicines for information. If you take regular medicines you should always check if it's compatible with any other tablets or supplements that you take. Just ask us and we can review it for you.
We offer free advice with no reimbursement numerous times throughout the day. This is on the spot health care advice – no appointments. We don't get government funding for this. We're the only healthcare professionals to do so.
We are always available for you – whether it's an ear to listen to or a shoulder to cry on – we're here for you and the community. Part of why I love being a pharmacist so much is getting to know my patients and customers – listening to their stories and accomplishments makes my day.
I could keep going on about all of the things that we do on a regular basis which most of you aren't aware of but instead, I'll finish this week's Dose of Wisdom with this:
Pharmacists are the healthcare professionals in which you can depend on and trust because we have absolute confidence and clarity in what we do. Our recommendations and suggestions for you are with keeping your best interests in mind – we get no financial gains or reimbursement from this free advice that we give. This is a rarity in this day and age! As the saying goes – there's no such thing as a free lunch in this world…except when it comes to pharmacist's expert advice!!
Next time when you see your pharmacist, give them a pat on their back. I'm sure it will make their day or even week because they are the people who work silently behind the scenes safeguarding our health system, usually with little or no recognition for the non – glamorous but important work that they do. They are the people who give so much to their community and do not expect anything in return.
Happy World Pharmacist Day!